About Fremont Table Tennis Academy
Fremont Table Tennis Academy (FTTA), located in Fremont and San Ramon, is one of the first full-time table-tennis clubs in the US. FTTA is the only table-tennis club chain based in the Western US.
FTTA believes in all students to have a fun time while they learn the game. Students have started as fresh beginners and won dozens of national medals and dozens of local tournament titles over the past decade making FTTA one of the top performing clubs in the nation.
All students receive personal attention whether a beginner with no prior experience or a national medalist. Our students experience steady improvement and value fair play. FTTA has classes for all ages and levels and hosts weekly leagues and bimonthly tournaments.
Free Wifi | Air Condiitioning and Heating Available
ABOUT FREMONT TABLE TENNIS ACADEMY FOUNDER AND HEAD COACH SHASHIN SHODHAN
FTTA Head Coach Shashin Shodhan is a long-time top US player and coach. He has been around the sport of table-tennis his whole life with over 30 years of experience. His lifelong passion for table-tennis began at age 5 and has remained with him to this day. He thoroughly enjoys teaching both kids and adults of all ages.
In 2000, he represented the US at the 2000 North American Olympic Trials where he was one of the top performers in both singles and doubles. In preparation for the Olympic Trials, he took a total of 3 years off his studies at UC Berkeley, including 1.5 years off directly before the trials. He trained at Olympic and World Champions Sweden and China for extended periods over 10 times. His travels also took him to Germany where he practiced with a first division German Bundesliga club for 3 months. At the world's top clubs and countries, he has played with some of the world's best players under some of the world's best coaches. He has also won 15 US national titles in various age and rating events.
Now as a coach, Shashin leads the group and private lessons at FTTA. He has the highest level of coaching certification possible with USA Table Tennis, National Coach, and with the International Table Tennis Federation, Level 3 Coach. He is also a sponsored coach of world leader Butterfly. He has also taught table-tennis at Stanford University for 8 years. His students are among the fastest improving and top performing players in the nation.
He also coaches at the Tri-Valley branch.
Shashin is a graduate of Mission San Jose High School in Fremont and UC Berkeley and has lived in the Fremont area since age 6.
FUN FACTS OF SHASHIN SHODHAN
Some interesting tidbits are that he has played with or learned from 10 World Champions. He has won games against a World #1, World #2, and a World #3. In 1997, he was a member of the US team at Stanford celebrating the 25th anniversary of historic Ping-Pong Diplomacy. This mainstream event restored diplomatic relations between the US and China in the early 1970s. His international experience has taken him to two World Tours, the 1999 Swedish Open and 2007 China Open. He beat 4-time Pan Am Games gold medalist Thiago Monteiro of Brazil at the Swedish Open. At the China Open, he narrowly lost to a former doubles partner of World Doubles Champion Chuan Chih-Yuan.
PICTURES OF SHASHIN
SHODHAN WITH THE
LEGENDS IN THE SPORT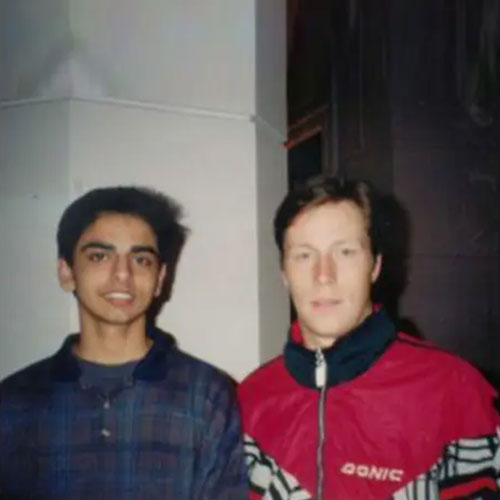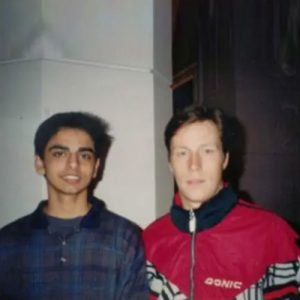 SHASHIN SHODHAN WITH JAN-OVE WALDNER
Pictured with Sweden's Jan-Ove Waldner who has Olympic gold and silver and 6 World Championship golds and is arguably the GOAT. Shashin has been to his home club, Angby, in Stockholm, Sweden many times and been in the same training group and has played with his World Champion teammates. Shashin was roughly 50-50 in practice games with Waldner's Angby elite league teammates and practice partners in Stockholm, Sweden when he was training full-time.
SHASHIN SHODHAN WITH JOO SE HYUK
PAST AND PRESENT Pictured with Korea's Joo Se Hyuk with the past picture being when Shashin was on the US junior national team and Joo on the Korean junior national team. The past picture was at an international junior tournament in Taiwan which Joo won. Joo would go on to become a World Championship Men's Singles and Olympic silver medalist.
SHASHIN SHODHAN WITH QUADRI ARUNA
SHASHIN SHODHAN WITH MIKAEL APPELGREN
Pictured with Sweden's Mikael Appelgren who is a 3-time World Team Champion and 3-time European Men's Singles Champion. This was during Shashin's first ever trip abroad for training at age 14. During later trips, Shashin has practiced with him and was in his training group in Stockhom, Sweden.
SHASHIN SHODHAN WITH JIANG JIALIANG
Jiang Jialiang of China was 1985 and 1987 World Men's Singles Champion. Shashin did an exhibition with him when he came to Northern California. Shashin has been to China 5 times for practice where Jiang was one of the most famous people in the 1980s. One of Shashin's table-tennis highlights in China was being able to watch the closed Chinese National Team practice with all the World and Olympic Champions present. One of his playing highlights in China includes beating nearly all the top players in one of the biggest city teams in Chengdu, including players being considered for the Chinese 2nd National Team.
SHASHIN SHODHAN WITH VLADIMIR SAMSONOV
PAST AND PRESENT
Pictured with Belarus' Vladimir Samsonov who is a 3-time World Cup Champion and 3-time European Men's Singles Champion. The past picture was after a Bundesliga match where the team Shashin was practicing with played against Samsonov's legendary Dusseldorf team.
SHASHIN SHODHAN WITH ANDRZEJ GRUBBA
Pictured with Poland's Andrzej Grubba in Grenzau, Germany where the Bundesliga team Shashin was practicing with played against Grubba's Grenzau team. Grubba was a World Cup Champion and 3-time World Championship Medalist.
SHASHIN SHODHAN WITH JORGEN PERSSON
PAST AND PRESENT
Pictured with Sweden's Jorgen Persson who is a 5-time World Champion. Shashin has been to one of his home clubs in Sweden many times and had the same coaches as him.
SHASHIN SHODHAN WITH JEAN-MICHEL SAIVE
Pictured with Jean-Michel Saive at a tournament in Chicago where Shashin hit with Saive. Saive has been a household name in Belgium for a long time. He has been World #1, European Men's Singles Champion, and World Championship Men's Singles and Team Silver Medalist, and Belgium's Olympic flagbearer twice.
SHASHIN SHODHAN WITH JORG ROSSKOPF
PAST AND PRESENT
Shashin took this past picture of Jorg Rosskopf moments after winning his second Olympic medal at the 1996 Atlanta Olympics. Shashin was doing stats and scorekeeping. Rosskopf is now the German National Team Coach of former World #1s Timo Boll and Dimitrij Ovtcharov, two of the best players ever from Europe.