About Fremont Table Tennis Academy
Nestled in Fremont and San Ramon, Fremont Table Tennis Academy (FTTA) stands as a pioneering beacon among full-time table-tennis establishments in the US. As the sole table-tennis club chain gracing the Western US, FTTA thrives on a mission that melds learning with enjoyment, allowing each student to relish a delightful journey into the game's intricacies.
From humble novices to triumphant bearers of national medals and local tournament laurels, FTTA's nurturing environment has fostered a legacy of excellence over the past decade, solidifying its stature as a premier contender on the national stage.
Every student is held in the embrace of personalized guidance, whether stepping onto the court for the first time or bearing the honor of a national medal. The spirit of continuous growth and a deep-rooted respect for fair play infuse every facet of FTTA's approach, culminating in an unparalleled realm of improvement.
With a comprehensive spectrum of classes catering to diverse ages and skill levels, alongside the rhythm of weekly leagues and bimonthly tournaments, FTTA orchestrates an all-encompassing tableau of table tennis, inviting enthusiasts to embark on an extraordinary odyssey of skill enhancement and camaraderie.
Complimentary Connectivity: Free Wifi
Climate Comfort: A/C and Heating
ABOUT FREMONT TABLE TENNIS ACADEMY FOUNDER AND HEAD COACH SHASHIN SHODHAN
At the helm of FTTA's coaching excellence stands Head Coach Shashin Shodhan, a stalwart presence in the US table tennis realm. With a lifelong immersion in the sport spanning over 30 years, Shashin's boundless dedication first ignited at the tender age of 5, evolving into an enduring flame that continues to illuminate his journey.
A distinguished player and mentor, Shashin's profound experience has woven a rich tapestry, encompassing representations as a top performer at the 2000 North American Olympic Trials and a resolute commitment that saw him temporarily suspend his studies at UC Berkeley for the pursuit of Olympic dreams. His unyielding pursuit of excellence led him to iconic training grounds such as Sweden, China, and Germany, where he honed his craft alongside world champions and revered coaches, culminating in 15 US national titles.
As a coach, Shashin's illustrious journey transitions seamlessly, marked by top-tier coaching certifications from both USA Table Tennis and the International Table Tennis Federation, bolstered by sponsorship from Butterfly, a global leader in the sport. His pedagogical prowess extends beyond FTTA's walls, having also imparted wisdom at Stanford University for 8 years, with his students ascending the ranks of both rapid improvement and exceptional performance.
A graduate of Mission San Jose High School and UC Berkeley, Shashin has etched his presence within the Fremont community since the age of 6, embodying the very essence of passion, dedication, and leadership that defines FTTA's indelible legacy.
FUN FACTS OF SHASHIN SHODHAN
Delving into his remarkable journey, Shashin Shodhan's table tennis odyssey has intertwined him with the essence of greatness. A testament to his prowess lies in the fact that he has shared the court and garnered insights from an impressive roster of 10 World Champions. On the global stage, he etched his name by clinching single game victories against the formidable trio of World #1, World #2, and World #3 players.
In a nod to history's resonance, Shashin's participation in the 1997 US team celebration at Stanford commemorating the 25th anniversary of the transformative Ping-Pong Diplomacy underscores his involvement in restoring diplomatic ties between the US and China. His global footprints span the landscape of two World Tours, most notably the 1999 Swedish Open where he triumphed over 4-time Pan Am Games gold medalist Thiago Monteiro of Brazil, and the 2007 China Open, where his valiant efforts echoed in his encounter against a former doubles partner of the esteemed World Doubles Champion Chuan Chih-Yuan. These feats encapsulate a journey of tenacity, skill, and a deeply cherished connection to the sport's international fabric.
PICTURES OF SHASHIN
SHODHAN WITH THE
LEGENDS IN THE SPORT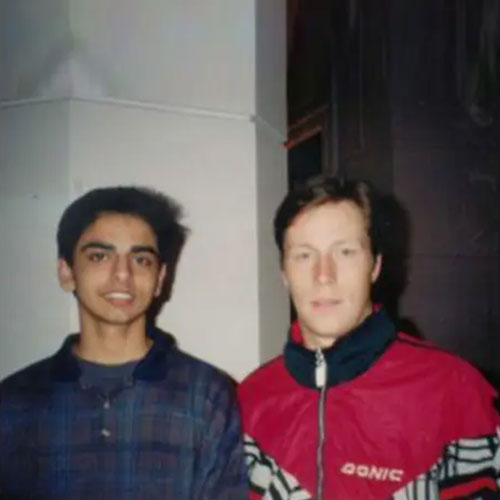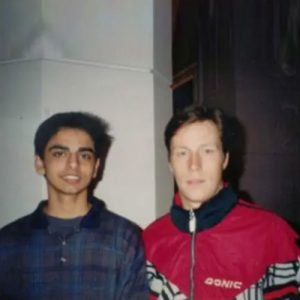 SHASHIN SHODHAN WITH JAN-OVE WALDNER
Pictured with Sweden's Jan-Ove Waldner who has Olympic gold and silver and 6 World Championship golds and is arguably the GOAT. Shashin has been to his home club, Angby, in Stockholm, Sweden many times and been in the same training group and has played with his World Champion teammates. Shashin was roughly 50-50 in practice games with Waldner's Angby elite league teammates and practice partners in Stockholm, Sweden when he was training full-time.
SHASHIN SHODHAN WITH JOO SE HYUK
PAST AND PRESENT Pictured with Korea's Joo Se Hyuk with the past picture being when Shashin was on the US junior national team and Joo on the Korean junior national team. The past picture was at an international junior tournament in Taiwan which Joo won. Joo would go on to become a World Championship Men's Singles and Olympic silver medalist.
SHASHIN SHODHAN WITH QUADRI ARUNA
SHASHIN SHODHAN WITH MIKAEL APPELGREN
Pictured with Sweden's Mikael Appelgren who is a 3-time World Team Champion and 3-time European Men's Singles Champion. This was during Shashin's first ever trip abroad for training at age 14. During later trips, Shashin has practiced with him and was in his training group in Stockhom, Sweden.
SHASHIN SHODHAN WITH JIANG JIALIANG
Jiang Jialiang of China was 1985 and 1987 World Men's Singles Champion. Shashin did an exhibition with him when he came to Northern California. Shashin has been to China 5 times for practice where Jiang was one of the most famous people in the 1980s. One of Shashin's table-tennis highlights in China was being able to watch the closed Chinese National Team practice with all the World and Olympic Champions present. One of his playing highlights in China includes beating nearly all the top players in one of the biggest city teams in Chengdu, including players being considered for the Chinese 2nd National Team.
SHASHIN SHODHAN WITH VLADIMIR SAMSONOV
PAST AND PRESENT
Pictured with Belarus' Vladimir Samsonov who is a 3-time World Cup Champion and 3-time European Men's Singles Champion. The past picture was after a Bundesliga match where the team Shashin was practicing with played against Samsonov's legendary Dusseldorf team.
SHASHIN SHODHAN WITH ANDRZEJ GRUBBA
Pictured with Poland's Andrzej Grubba in Grenzau, Germany where the Bundesliga team Shashin was practicing with played against Grubba's Grenzau team. Grubba was a World Cup Champion and 3-time World Championship Medalist.
SHASHIN SHODHAN WITH JORGEN PERSSON
PAST AND PRESENT
Pictured with Sweden's Jorgen Persson who is a 5-time World Champion. Shashin has been to one of his home clubs in Sweden many times and had the same coaches as him.
SHASHIN SHODHAN WITH JEAN-MICHEL SAIVE
Pictured with Jean-Michel Saive at a tournament in Chicago where Shashin hit with Saive. Saive has been a household name in Belgium for a long time. He has been World #1, European Men's Singles Champion, and World Championship Men's Singles and Team Silver Medalist, and Belgium's Olympic flagbearer twice.
SHASHIN SHODHAN WITH JORG ROSSKOPF
PAST AND PRESENT
Shashin took this past picture of Jorg Rosskopf moments after winning his second Olympic medal at the 1996 Atlanta Olympics. Shashin was doing stats and scorekeeping. Rosskopf is now the German National Team Coach of former World #1s Timo Boll and Dimitrij Ovtcharov, two of the best players ever from Europe.